STRAAT Gallery retrospect
*This article was first published when our museum was closed due to the corona measures. We are currently open and looking forward to seeing you in both our museum and our STRAAT Gallery (located in our museum).
The goal of our STRAAT Gallery is to create stunning solo and focused group exhibitions that highlight and magnify the diversity of our culture worldwide. Relive our previous gallery shows with virtual tours, walk-through videos and handy print archives!
What The Fuck? Shoe at STRAAT - Niels Shoe Meulman - October 9th, 2020 - June 20th, 2021
It remains a huge honor that our very first STRAAT Gallery exhibition featured none other than Dutch icon Niels Shoe Meulman. He even blessed our museum exhibition with a cool installation called Shoe in the middle, of which we captured the making of. If you would like to relive our gallery's opening exhibition, which features some of Shoe's finest work including his signature calligraffiti style, then check out this cool little video we put together. Furthermore, you can find the exhibition catalogue here, as well as a handy overview of work by Shoe which you can still grab via our online shop.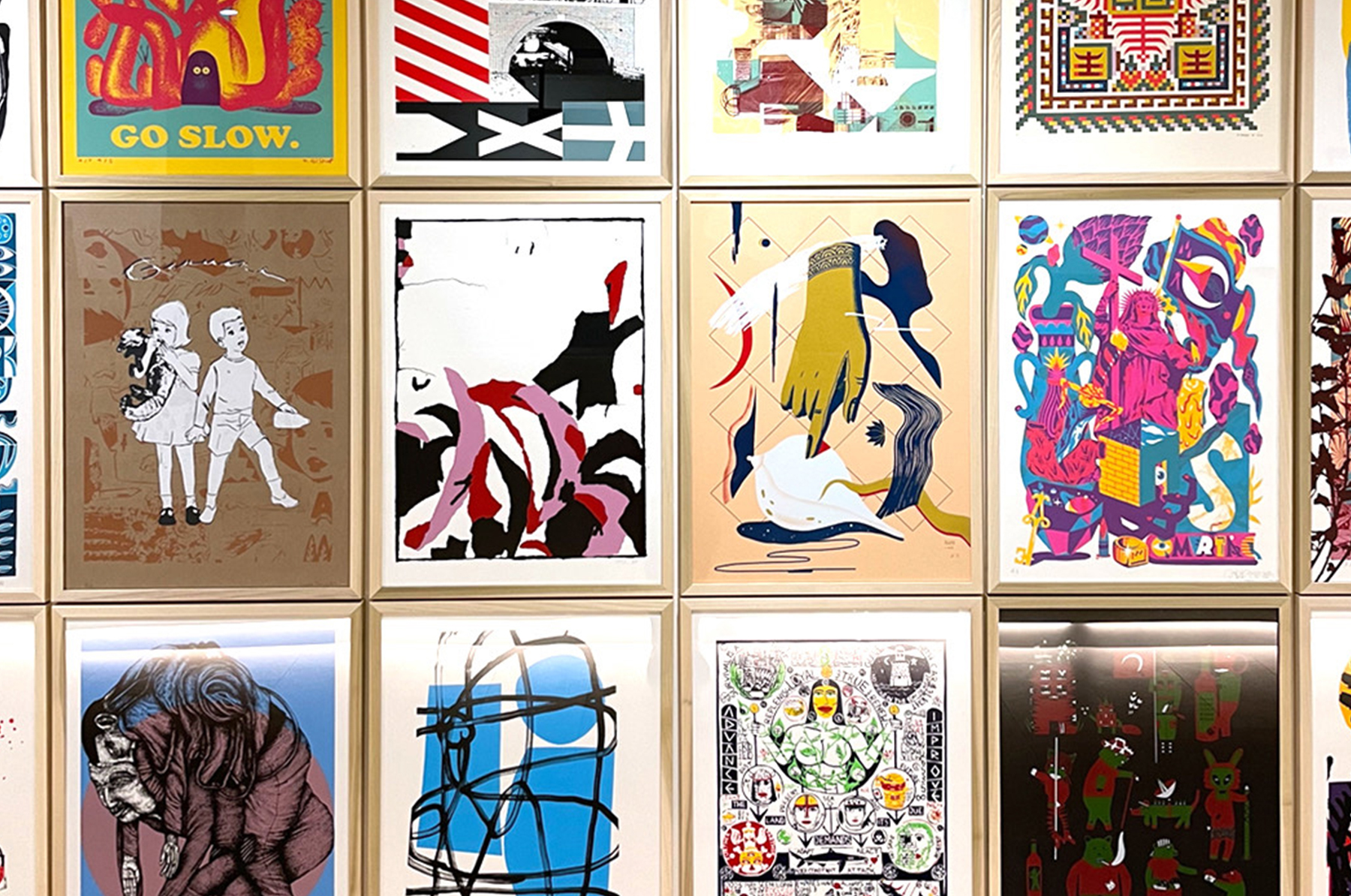 Out There Somewhere - The Jaunt: Wasted Rita & Tellas - June 25th - September 19th, 2021
The follow-up to our inaugural exhibition with Shoe was the first of many great gallery collaborations with other culture-shaping projects. We joined forces with Denmark-based project The Jaunt to present the exhibition Out There Somewhere featuring two of The Jaunt's veterans, Tellas and Wasted Rita, along with a stunning overview of The Jaunt prints straight from their archives. You can check out the Tellas and Wasted Rita exhibition catalogue, The Jaunt print archive and handy overviews of both Tellas' flora and foliage and Wasted Rita's sarcastic wisdom. Furthermore, Both Tellas and Wasted Rita visited the museum during the exhibition to add mural-scale works to our collection.
START THIS - New Work By Cornbread The Legend - October 9th - December 12th, 2021
Continuing our streak of collaborations, we co-curated our next show with the Paradigm Gallery from Philly, to bring you new work by the legendary Cornbread. The good folks at Paradigm even put together a stunning virtual tour of this exhibition. The exhibition catalogue is also up for grabs over here. Would you like to own an original Cornbread yourself? Our online shop still has some limited edition signed Cornbread prints available! The original works from the exhibition are hosted on the Paradigm site. As a terrific honor to our cultural heritage, Cornbread also added a mural-scale piece to our STRAAT collection.
Souls Made Of Flames - Pure Evil - December 18th, 2021 - ??!?
Our latest show lasted exactly one day due to the corona measures… So once our museum reopens, we encourage you all to stop by the STRAAT Gallery to check out our current exhibition with none other than Pure Evil, Souls Made Of Flames. Can't wait? The exhibition catalogue and available works can be found on our shop site as well. Pure Evil also graced our ever-growing collection with a mural-scale piece. 
Our STRAAT Gallery can be visited with your regular museum admission ticket. We surely hope to see you soon!