STRAAT showcases more than 180 artworks by 170+ artists. But our full collection features even more works. The works on display frequently rotate. At the same time, works are constantly added to the collection. You can even catch artists painting live at STRAAT if you plan your visit accordingly.
We are committed to building a collection that properly represents the international street art movement. We aim to attract artists who have earned their rep with their personal stories, background, style and talent. A unique quality of our collection is the fact that virtually all artworks were created for and at our museum; the artworks at STRAAT are created in the same place the viewer gets to see them - just like in the streets!
Explore the collection database
---
Thematically grouped and accompanied by texts and timelines that illustrate the complexity of the movement, the selection covers a wide range of styles that can be found on walls around the globe.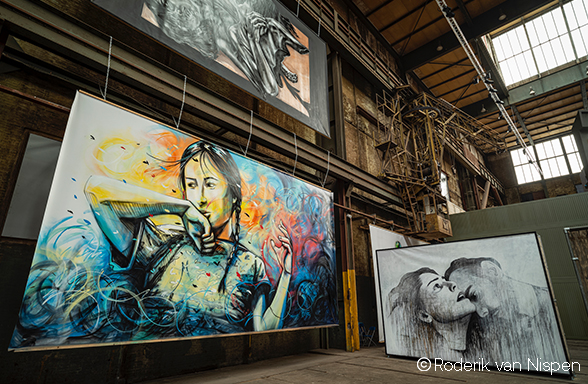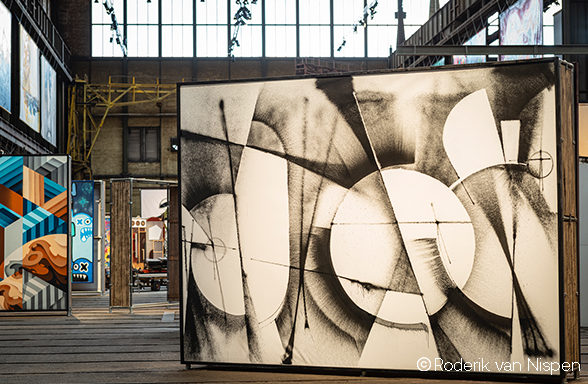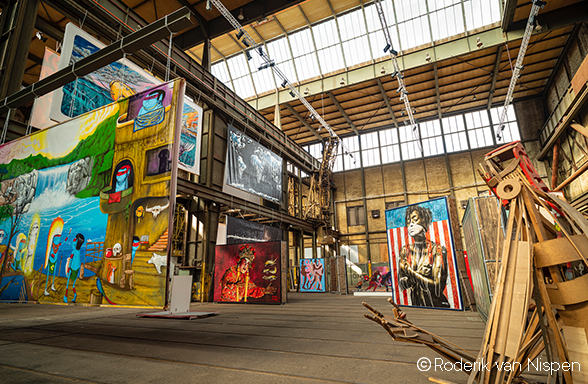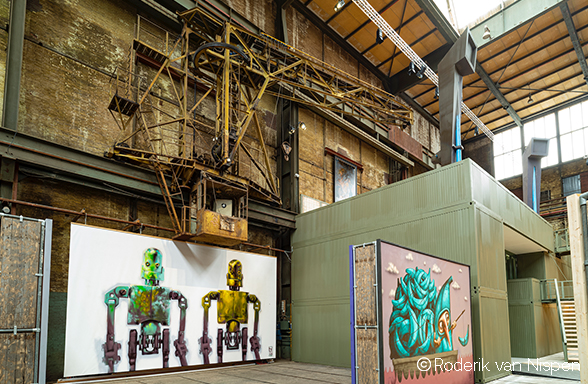 ---
Rafael Sliks / Zësar Bahamonte / Snik / Dvate / Royyal Dog / Dourone / Said Dokins / DERM / Skount / Nase / MonkeyBird / Bims / L'Outsider / Daan Rietbergen/ Mr. June / Caratoes / WESR / Bruno Smoky / Xoooox / Jenny Sharaf / Nasca Uno / Oscar / Sidney Waerts / Welin / Balstrøm / David Walker / JanIsDeMan / Eoin / Sokar Uno / Kevin Ledo / Fin DAC / Guido de Boer / Mike 171 / SJK 171 / Dotsy / Jim Vision / Joren Joshua / TWOONE / Daze / Inkie / Nomad Clan / Alex Senna / Vesod / George Rose / Guido van Helten / INO / The Lost Object / Helen Proctor / Ever / Morcky / Dagoe / SWOK / Ox Alien / Phibs / Bounce / Davor Smoljan / Klaas Lageweg / Welin / Bartkore / Millo / Beyond / Dan Kitchener / Cripta Djan / Treze / Adele Renault / Nuno Viegas / Base 23 / Icy & Sot / Jeffrey Cheung / Osch / Erin Yoshi / Bier en Brood / SellFable / Alaniz / Bonzai / Thomas Powell / Guitar y Banjo / Nafir / Crânio / Dale Grimshaw / Li-Hill / Seyb / Clandestinos / Chor Boogie / Vegan Flava / Mando Marie / Elmar Karla / Eddie Colla / Pso Man / Kram / A squid called Sebastian / Vyal One / Alex Face / Wayne Horse / Malakkai / Taquen / Nils Westergard / FAKE / Tankpetrol / Bijdevleet / David Shillinglaw / Karski / Alice Pasquini / Paola Delfin / Lean Frizzera / Tymon de Laat / Buff Monster / Ben Slow / Pez / Mark Gmehling / Chris Dyer / Sipros / Apitatán / Oz Montania / Brigada Ramona Parra / Entes / Mateus Bailon / Farid Rueda / Uno Nueve / Gleo / Cix / Steve Locatelli / Astro / Ekundayo / Kool Koor / Binho Ribeiro / Shaun Burner / Milu Correch / Michel Alders / Hugo Kaagman / Carl KENZ / Joram Roukes / DOES / Czee13 / Saïd Kinos / Street Art Frankey / Dilk / Wasted Rita / Zurik / Zenk One / Tellas / Cornbread / DavidL / Jad el Khoury / Judith de Leeuw / WERC / Erwtje83 / Gary Stranger / Hush / Ottoschade / Ceizer / Ross Evk / Studio Giftig / Luca Ledda / Galo / Kayla Mahaffey / Carlos Ramirez / Ottograph / HERA of Herakut / KEO / Studio ZEPA / YorkOne / Wandal / Tony van Amsterdam / Sobekcis / Remi Rough / Bisco Smith / Young Jarus / Lady AIKO / Nina Valkhoff / Kaplan Bunce / Jaque Fragua / Anthony Garcia Sr. / Danielle SeeWalker / Steve ESPO Powers / Hoxxoh / ELLE / Super A / Collin van der Sluijs / NeSpoon / Shepard Fairey