History of graffiti and street art: the 1980s and the 1990s
At STRAAT, we showcase some of the most amazing contemporary graffiti and street art. But there is a long history that predates these artworks. What were some of the key events that would eventually lead to graffiti and street art finding their way to museums such as STRAAT? That's where this extended historic overview comes in. This overview aims to introduce crucial moments in the development of both graffiti and street art, which paved the way for the artworks we currently have on display. If you want to start at the very beginning of this overview, please check out History of graffiti and street art: the 1960s and the 1970s.
In the '80s and '90s, graffiti and street art go global and collaborate with many other forms of art. Movies and books on New York City subcultures spread graffiti all over the world. More high brow art shows help solidify the movements' statuses. The introduction of new media as well as international partnerships also contributes to the movements developing a stronger international presence and unity.
History of graffiti and street art: the 1980s
1980s / São Paulo / Rise of the pixação movement, Brazil's home-grown name writing done in a distinctive, cryptic style, which often goes hand-in-hand with free climbing and abseiling to reach extremely difficult spots on buildings.
1980s / Berlin / The Berlin Wall becomes a popular painting spot for national and international graffiti and street artists, among whom Thierry Noir, often credited as the first artist to paint the Berlin Wall, and Keith Haring, arguably the biggest artist to emerge from New York's graffiti subculture of the 1980s. 
1981 / Paris / Blek Le Rat hits the streets with his stencils, leaving spray painted rats all over Paris. Often described as the 'father of stencil graffiti', Blek Le Rat sees rats as 'the only free animals in the city', who 'spread the plague everywhere, just like street art'.
1981 / New York / PS1 Institute for Art and Urban Resources organizes the exhibition 'New York / New Wave', curated by Diego Cortez. This was one of the first public showings of Jean-Michel Basquiat's art, one of the biggest artists of our recent history. 
1982 / New York / Keith Haring paints his first large-scale public work on the Houston Bowery Wall. Many artists have since created murals on the same wall, turning it into an iconic spot in New York. 
1982 / Europe / The New York City Rap Tour (the first international hip hop tour) featuring Afrika Bambaataa, Fab 5 Freddy, the Rock Steady Crew and others travels to London and Paris. American artists Dondi, Phase II and Futura 2000 accompany the break dancers and the MC´s by painting on stage. 
1982 / Release of Charlie Ahearn's film 'Wild Style', a fictional film loosely based on graffiti artist Lee Quinones' life and career. The main character Zoro paints subways and experiences his first taste of downtown art success. Wild Style was later crowned best hip hop movie of all time by The Source Magazine.
1982 / Futura 2000 tours with the British music band The Clash. They also record a rap song called The Escapades of Futura 2000 together, which plays like a historic overview of and an audio think piece on graffiti writing in New York.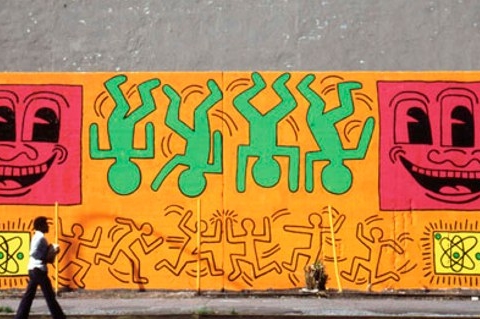 Keith Haring on the Houston Bowery wall / Dondi in Subway Art
1983 / Paris / Bando starts painting graffiti; As his father was living in New York at the time, Bando started painting New York style graffiti in Paris. He would soon after develop a style of letters that gave birth to the 'European school of graffiti', as his sketches were copied, shared and emulated all over the continent.
1983 / New York / Publication of the first volume of the International Graffiti Times; the first graffiti magazine ever, founded by David Schmidlapp. Like many graffiti magazines afterwards, IGT was a magazine for and by graffiti writers.
1983 / USA / Release of Tony Silver's film Style Wars, a documentary on New York hip hop and graffiti culture. When this documentary was aired in different European countries, it strengthened the spread of the movement in Europe, as kids all over started emulating New York graffiti styles.
1983 / Amsterdam / Artworks by American graffiti writers Seen, Blade, Futura 2000, Dondi and several other prolific New York artists are exhibited at the Yaki Kornblit gallery, a prestigious art gallery near Amsterdam's Museum Square.
1984 / Publication of Martha Cooper and Henry Chalfant's highly influential photography book Subway Art, which is often described as the 'graffiti bible'. Similar to Style Wars, Subway Art is an essential instrument in spreading American style graffiti across Europe and beyond. Described by Amsterdam graffiti legend Zap as 'the most stolen book in the history of Amsterdam'...
1985 / Birth of CTK (Crime Time Kings), one of the first international graffiti crews, formed by writers from London, Paris and Amsterdam - including Shoe, currently showing at our STRAAT Gallery - who would help spread the European school of graffiti style throughout the continent.
1989 / New York / Trains are cleaned before they run; most writers eventually lose interests in painting trains.
1989 / Berlin / Demolition of the Berlin Wall. This historic symbol had turned into a giant canvas for graffiti and street art. Remaining parts of the wall attract many visitors for street art purposes under the name East Side Gallery to this day.
History of graffiti and street art: the 1990s
1990s / New York / KAWS - who would later become internationally known for his cartoon sculptures and limited-edition toys - starts subvertising billboards, bus shelters and phone boots.
1991 / Los Angeles / Graffiti writer Haze founds one of the first street wear brands, HAZE (clothing and accessories). 
1991 / Europe / The Interrail movement is born; painting internationally becomes common all around Europe as writers travel from one city to another with the interrail pass, forming international alliances and spreading and mixing different local styles.
1994 / Susan Farrell creates the first graffiti website called 'Art Crimes: The Writing on the Wall'; an online gallery of international graffiti. It also features a calendar of graffiti events, graffiti articles and interviews and links to other graffiti websites as they appear online.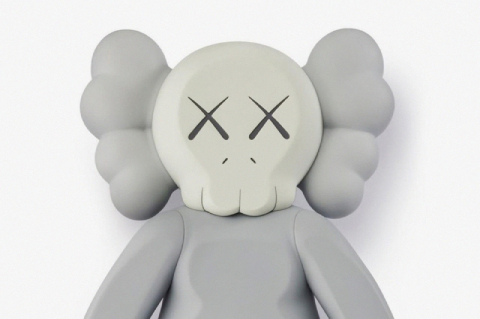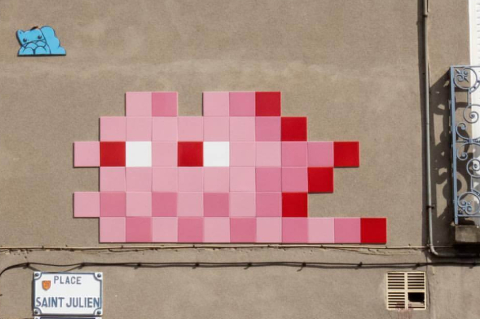 KAWS / Invader
1997 / Wiesbaden / First edition of the graffiti event 'Meeting of Styles', bringing together artists from all over to paint together and network. Meeting of Styles subsequently spreads around the world. 
1998 / Paris / French pixel artist Invader starts installing his ceramic tile mosaics modeled after 8-bit video games.
1999 / KAWS makes his first toy (Companion), a vinyl figure of Mickey Mouse with X-ed out eyes.
---
By Giulia BLocal and Alex Pope