STRAAT pays homage: Yaki Kornblit Gallery
STRAAT is proud to continue the efforts of our predecessors when it comes to showcasing graffiti and street art as a gallery-worthy and museal artform. Which is why we will revisit several exhibitions from the past that laid the foundation for what we are able to do today, in a series of articles called STRAAT pays homage. Remember: if you don't know where you're coming from, you don't know where you're going...
Various artists at the Yaki Kornblit Gallery, Amsterdam, 1983
Amsterdam's rich graffiti history kicked off way before the arrival of New York style graffiti on the European continent. Even before the ego-oriented punk name writing of the late '70s, the city was filled with political statements and slogans. By the early '80s, Amsterdam was covered in tags, or as we would say: seriously bombed. With this in mind, it shouldn't come as a surprise that our hometown turned out to be very fertile soil for New York graffiti artists and their artistic careers.
Yaki Kornblit had a prestigious art gallery on the Willemsparkweg in the south side of town, a rather chique street just below the iconic Museum Square. However, his gallery had been closed for a while. In 1981, he decided to head out to New York City, to scout new talent and rejuvenate his career as a gallerist.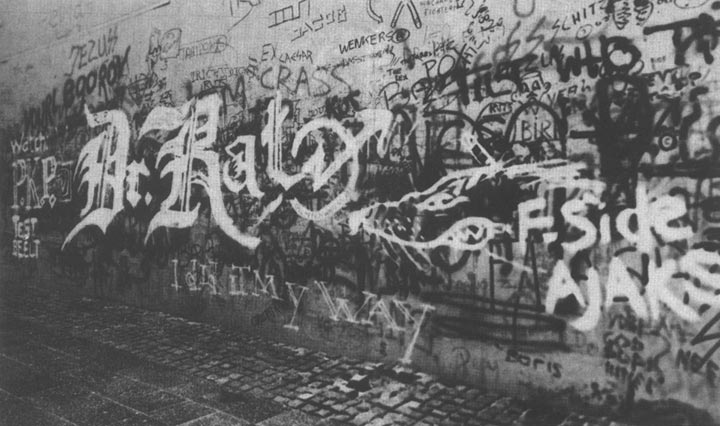 Amsterdam in the early 80s
Coming from a place that's already seriously bombed, Yaki was no stranger to graffiti. When he got to New York City he fell in love with a Futura 2000 artwork that's hanging in the bedroom of his temporary home. He eventually got to meet Futura, and through him he was introduced to the work of other graffiti royals such as Blade, Dondi, Lee, Zephyr and more iconic names. 
Yaki ended up staying in New York for 8 months, diligently collecting graffiti art. He had a vision of organizing solo shows of 1 month for his recent discoveries. The first artist to showcase his work at the newly reopened Yaki Kornblit Galerie in Amsterdam was Dondi White. Other big names such as Blade and Futura were up next. 
"The first three exhibitions in Amsterdam were a huge success. Even before Dondi's opening reception, every single piece of art had been sold to collectors and art dealers. When I got off the plane from New York, I took a cab from the airport with all the canvasses rolled up on the backseat. When I arrived at my gallery, enthusiastic buyers were already waiting on the pavement and literally pulled the canvases out of my hand, because they were so eager to buy. It was crazy. The art collectors bought everything they could get their hands on. That same day I phoned the guys to tell them all of their work was sold. Their reaction was so full of joy and enthusiasm. I decided to bring them to the Netherlands so they could be present at their own art exhibition." / Yaki Kornblit - Amsterdam on tour.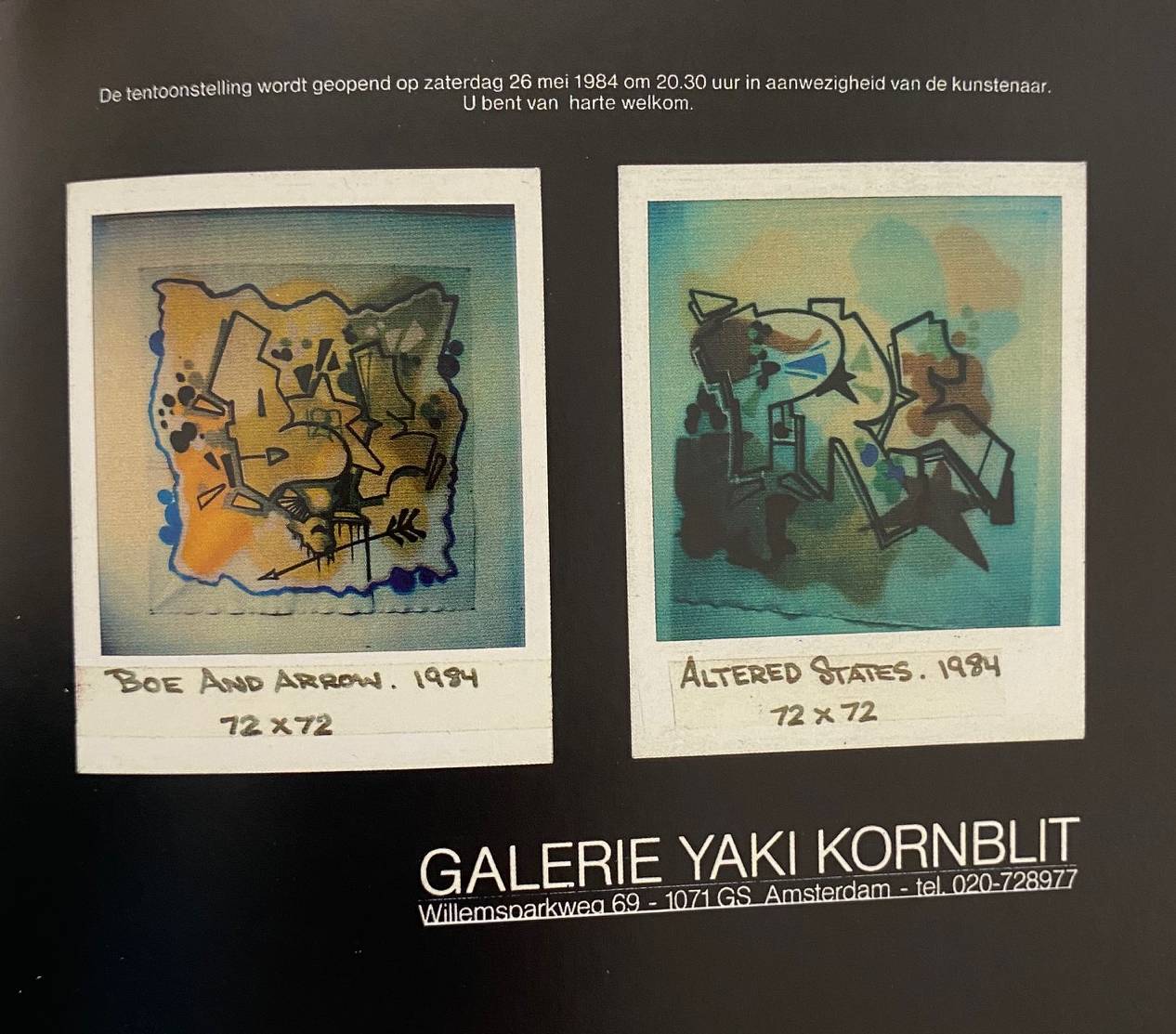 Dondi White at Galerie Yaki Kornblit 1984
In the end, all shows turned out to be a huge hit. The New York graffiti artists got their first real taste of high-brow art success. Every single exhibition at the Yaki Kornblit Gallery was completely sold out. His revenue went north of $1,000,000. But these shows were bigger than just a financial success. Impressed by a combination of factors, including the art and the artists behind it, the Rotterdam Boymans Van Beuningen Museum decided to organize the first graffiti art museum exhibition after seeing the shows at Yaki's gallery - an exhibition we'll discuss in an upcoming chapter of this series.
The shows at Yaki Kornblit's gallery were monumental in several ways. They kickstarted the art careers of several graffiti artists from New York we consider to be our holy grail, such as Dondi, Lee, Blade, Seen and others. Furthermore, they gave Dutch graffiti artists a headstart on the rest of the world, which in the case of for instance Delta and Shoe, also led to very successful artistic careers. But most importantly, graffiti art had arrived in the established art world, where it would remain a factor - sometimes a huge one at that, yet undeniably a factor whether big or small - till today. It would inspire countless artists all over the world to not only paint in the streets, but to also pursue a career as a professional artist. At STRAAT, we are proud to offer these artists a homebase, and we thank Yaki Kornblit for his monumental contribution to the culture. 
---
Article by Alex Pope