STRAAT Books will discuss an iconic graffiti and street art book on a regular basis. These aren't just our personal favorites, these are the essentials for anyone who's (partly) interested in graffiti and street art. Which is why STRAAT Books aims not to only share our take on these books, but to hear from you as well. So give us a shout and let us know your thoughts.
After previously discussing Amsterdam on Tour by our hometown hero AGAIN, it's only right we continue STRAAT Books with Subway Art by Martha Cooper and Henry Chalfant. In all honesty, no graffiti and street art book collection is complete without Subway Art. We'll gladly explain why below.
Subway Art is often referred to as the graffiti bible. Ask anybody that fell in love with graffiti in the 1980s how it happened, and there is a huge chance Subway Art is mentioned. If you look up Subway Art on Wikipedia, it is noted that this book 'quickly acquired the dubious accolade of becoming one of the most stolen books in the United Kingdom'. When visiting STRAAT earlier this year, Dutch graffiti legend ZAP also described Subway Art as 'the most stolen book in the history of Amsterdam'. Aside from these numerous thefts, Subway Art has sold over 500.000 copies worldwide. It is safe to say it's one the most popular books on graffiti ever published.
The original edition of Subway Art was released In 1984, by renowned publishing house Thames & Hudson. Thames & Hudson had a vision back then of creating 'a museum without walls'. We can't think of a publishing house that could be more suited to releasing arguably the ultimate graffiti book… The original edition of Subway Art includes a comprehensive lexicon of graffiti slang and unwritten rules, and offers an overview of New York graffiti history, paying homage to pioneers such as TAKI 183 and his contemporaries. The 230 full-color pictures, some of which take up entire pages, are without a doubt the main highlight. You can almost taste the rawness of early 80s New York. But Subway Art also underlines the artistic value of graffiti, describing the movement as 'America's newest folk art… a highly sophisticated calligraphy that flowers in a constantly changing, bold and brilliant traveling show on the city's subway system.'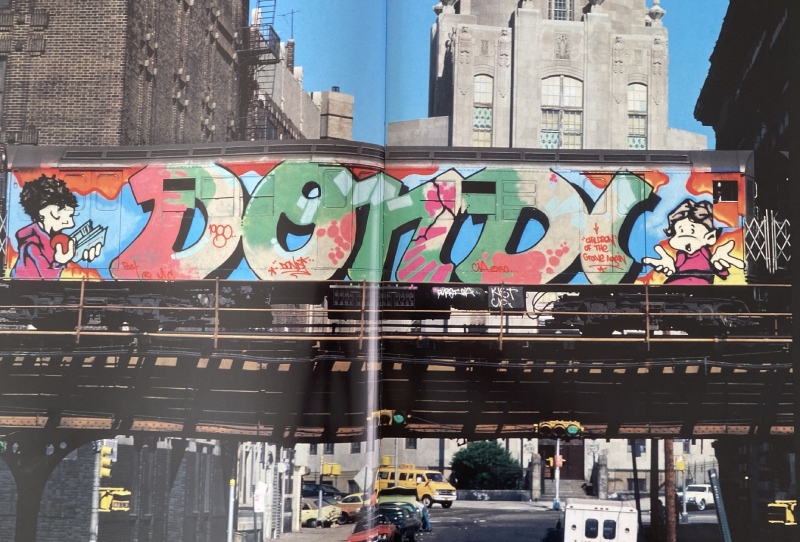 DONDI burning through New York City, captured by Martha Cooper
In 2009, a 25th Anniversary Edition of Subway Art was released. This giant coffee table-sized version includes 153 full-color pictures - including over 70 photographs not included in the original release of 1984, and several fold-outs -, as well as an introduction and conclusion by Cooper and Chalfant. These additions offer a nice overview of how the culture has developed in 25 years. Deservedly so, it is also mentioned how Subway Art played a big part in the culture going global as 'one of the vehicles that brought this movement to life…' To further underline the importance of Subway Art, check out these quotes by contemporary art heavyweights:
"Subway Art is one of the main reasons graffiti became a global phenomenon. For everyone that didn't grow up in New York City and even those that did, Subway Art became their main source of inspiration." / Shepard Fairey
"People from all over the world have wanted to meet me because of Subway Art. There is no question that this book has changed the course of art history on this planet." / Blade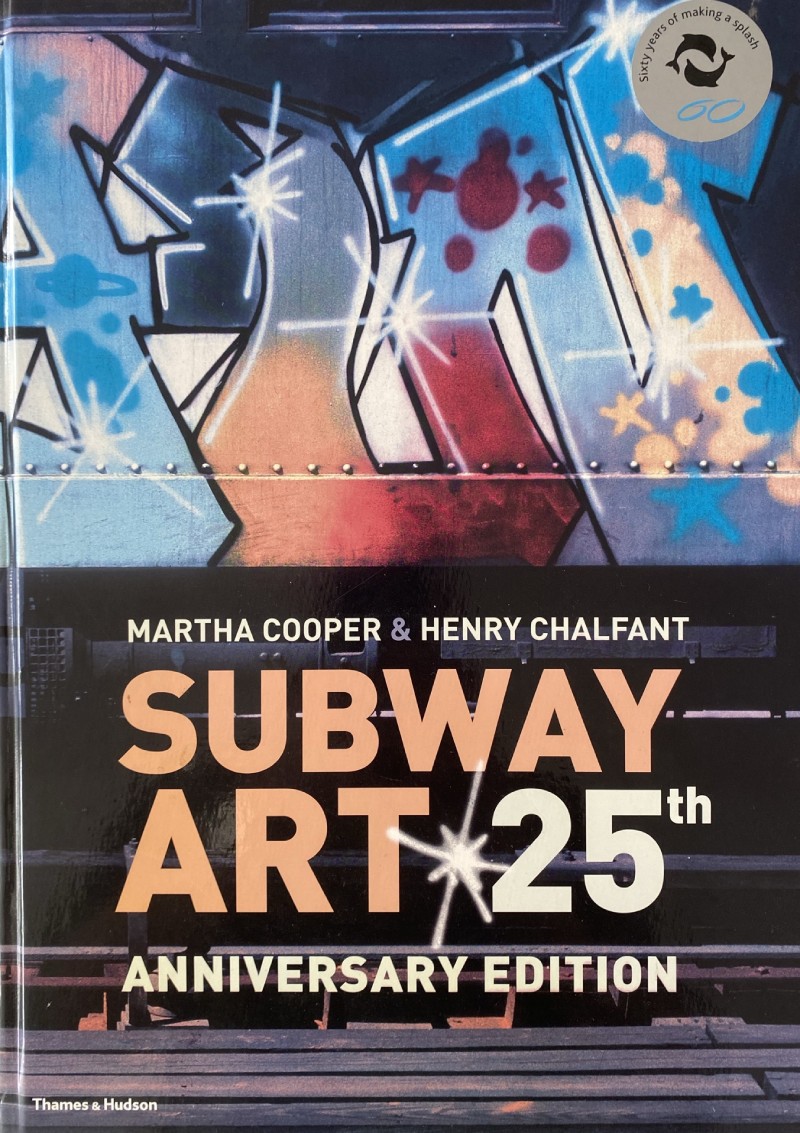 Subway Art 25th Anniversary Edition
In 2016, more than 30 years after the original release of Subway Art, 'the bible of the street art movement' saw another release, which is probably best described as a mash-up of the previous two editions: the 25th anniversary content in the original's dimensions. This is also the edition we carry in our STRAAT museum shop, albeit the 2021 reprint.  
Aside from now serving as brilliant documentation for graffiti nostalgists, Subway Art is a beautiful photography book in general. Cooper, as a professional photographer, focused more on capturing the trains in their natural surroundings. Chalfant, partly inspired by his background in sculpture art, moreso zoomed in on the pieces and aimed to get them all in line through a specific technique of photo montage.

DONDI fold-out captured by Henry Chalfant
These two different approaches meant that the works on the train got the shine they deserved, while we also got a broader understanding of the contexts of these works. Or as Henry Chalfant himself describes it: 'We realized that our ways of approaching graffiti were completely different and complementary, since Marty was a professional photographer and her photos revealed the ambiance and the context of the art on the trains, while my method of photomontage emphasized the artworks themselves.' 
Subway Art is the graffiti bible. If you take pride in your graffiti and street art library, it's a must have. It was an essential part in the culture going global. It's probably a bigger influence in your current location - wherever you may find yourself - than you might imagine. With Thames & Hudson's upstanding reputation, the amazing photography of Cooper and Chalfant, and not in the least the artistic talent of the many featured writers, it's an essential factor in the acceptance of graffiti as art. Looking at Subway Art now, it's also a brilliant way of time-traveling to the New York of the early 80's. 
As Chalfant says in the outro: '... after thirty years the beauty and intense vitality of graffiti art have made the point that it really is art…' Here at STRAAT, we are not just deeply indebted to the pioneers of the artform but also to Cooper and Chalfant for helping that culture go global, spreading the gospel. A true bible indeed… 
Get your copy of Subway Art now!
Air Dondi by Martha Cooper in Subway Art
In our STRAAT museum shop you can now find the official Air Dondi merchandise. These t-shirts, sweaters and caps are inspired by the legendary picture by Martha Cooper as featured in Subway Art. Please note: very few items available!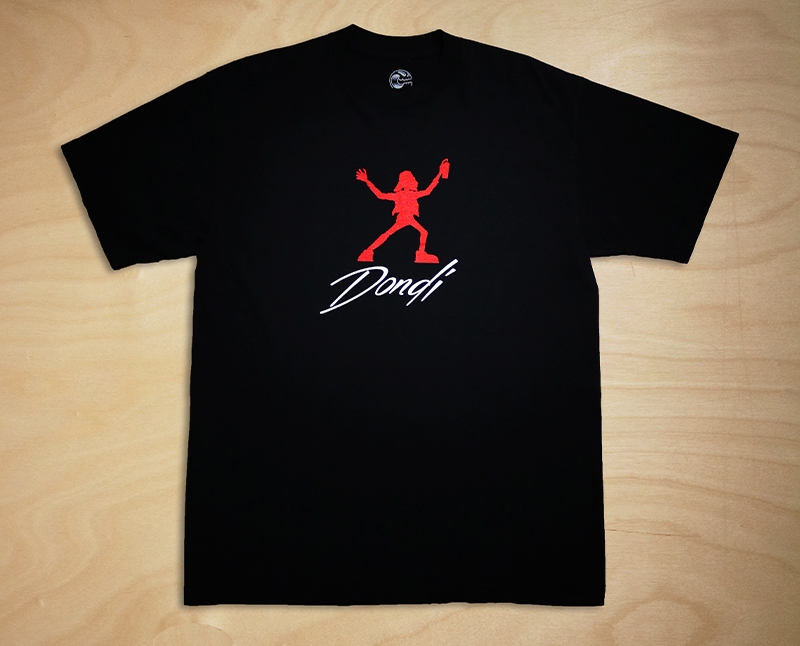 Article by Alex Pope
Pictures: Martha Cooper / Henry Chalfant / STRAAT