STRAAT Books: Amsterdam on Tour - AGAIN
STRAAT Books will discuss an iconic graffiti and street art related book on a regular basis. These aren't just our personal favorites, these are the essentials for anyone who's (partly) interested in graffiti and street art. Which is why STRAAT Books aims not to only share our take on these books, but to hear from you as well. So give us a shout and let us know your thoughts. 
To kick off STRAAT Books, we couldn't think of a better title than Amsterdam on Tour - The Early Signs of Dutch Graffiti, by our hometown hero AGAIN. This gem recently celebrated its second birthday, which is why we've added Amsterdam on Tour tag posters (***UPDATE: sold out***) to our webshop. This book is about as close as you can get to time traveling to the Amsterdam of old, or to be specific, of 1975 - 1985. But before we start our intermillenian time-traveling adventure, let's go back to some slightly more recent personal history.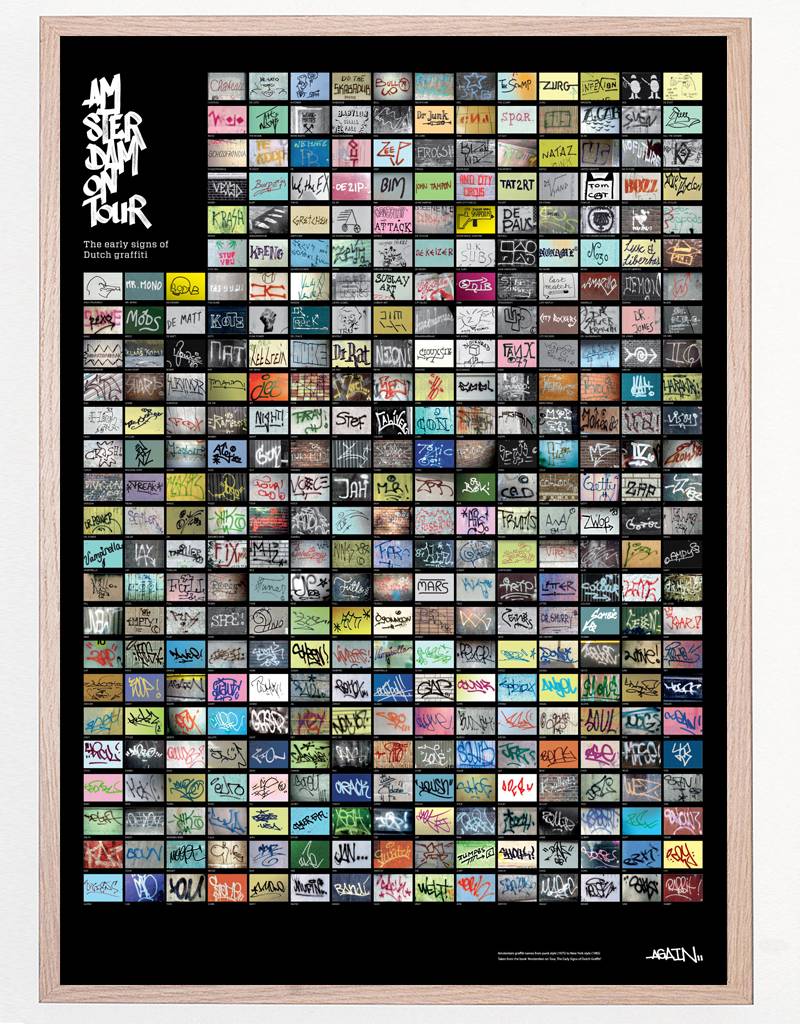 Amsterdam on Tour tag poster
Between 2007 and 2011, yours truly was heavily dedicated to photographing old school graffiti in Amsterdam that had survived the hands of time. It was my personal archaeological mission to document as much old-school stuff as possible, and preserve an iconic piece of Amsterdam history. I uploaded these photos to the now-defunct Instagram predecessor Fotolog.
It was through Fotolog that I first digitally met AGAIN, who reached out to me about the whereabouts of certain tags I had snapped. We exchanged a few emails, and I felt honored to provide information to one of my all-time favorite writers. About a year and a half later, in June 2013, I was featured on our local tv station AT5, discussing, amongst other things, the rich local Amsterdam graffiti history. I once again received an email from AGAIN, complementing me for my interview. While this was another personal highlight for me, this was also the very first time I learned about AGAIN's project of putting together a book documenting Amsterdam's graffiti history in the period 1975 - 1985. Although according to AGAIN, 'things were moving very slow', as a huge graffiti history nerd, you can imagine the excitement I felt.
I can picture you questioning the purpose of this very personal introduction to discussing Amsterdam on Tour - The Early Signs of Dutch Graffiti. Well, the purpose is to reflect the huge amount of time and dedication AGAIN has put into this book, which was released in the spring of 2019. Mind you, when he first informed me about Amsterdam on Tour in 2013, he had already been working on it 'for a while'. The blood, sweat and tears that it cost to deliver this book are reflected by the amazing production it turned out to be.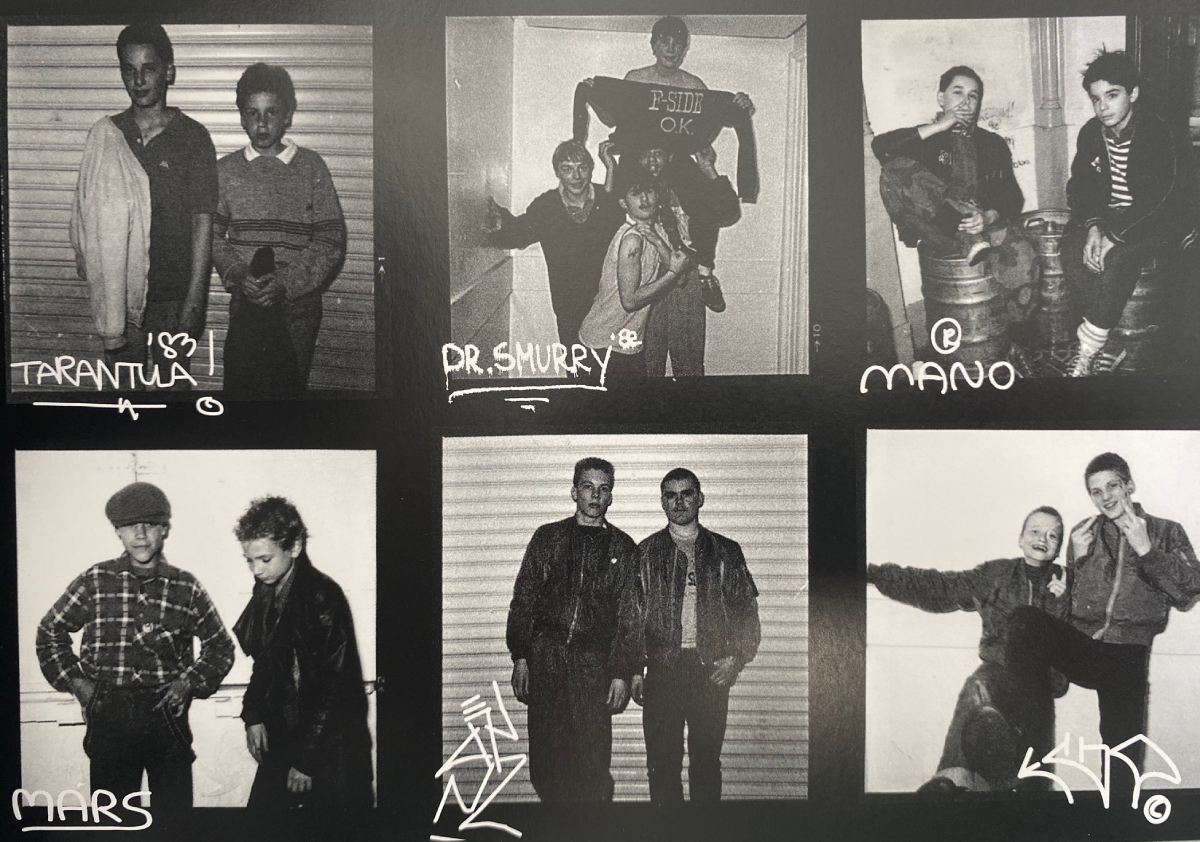 City kids early '80s
The following quote is taken from the back cover of Amsterdam on Tour:
"Back in the day, before hip-hop ruled the planet, Amsterdam had its own home-grown graffiti culture. The streets and alleys were covered with the markings of rebellious youth, long before the New York style of graffiti became a widespread hype in Europe. Punk rockers, Disco fans, hooligans and other rebels all wrote their messages on the walls. The styles were richly varied and the messages equally so.
Amsterdam on Tour describes the rise and development of graffiti in Amsterdam until 1985. This is the first time ever that this story has been carefully told. Over 30 graffiti artists from that special scene tell their stories in a unique collection of words and pictures. This book traces the deepest roots of a phenomenon that developed into one of the biggest visual cultures known today."
The quintessential phrase here is 'carefully told'. Amsterdam on Tour covers it all: the appeal of graffiti, Amsterdam's history of political slogans, the switch from activism to egoism, feminist girl power graffiti, no-future punks, city kids, the abandoned Leidseplein prison, subway tunnels, the arrival of New York, the Yaki Kornblit Gallery, Waterlooplein, the hang out, Style Wars, all the way to the introduction of Bando's style. All the usual suspects are there: Vendex, Dr. Rat, Diana Ozon, Hugo Kaagman, Ego, Dr. Air, Walking Joint, Yaki Kornblit, Blade, Shoe, Delta, Zap, Rhyme, High and more.
While New York will always be the mecca for graffiti, Amsterdammers (should) take huge pride in our unique, local history. What Amsterdam on Tour does brilliantly, aside from painting the picture of the origins of Amsterdam graffiti, is capturing the zeitgeist of this period. This isn't modern-day IAmsterdam. This is squatting, rioting, boarded-up, junky, rebellious Amsterdam in all its glory, perfectly depicted through stunning photos and quotes from the people that were there, including AGAIN himself. If you are somewhat passionate about graffiti history, if you're feeling nostalgic for old-school Amsterdam, heck, if you can appreciate any book that's beautifully put together, Amsterdam on Tour (***UPDATE: sold out***) is an absolute must-have!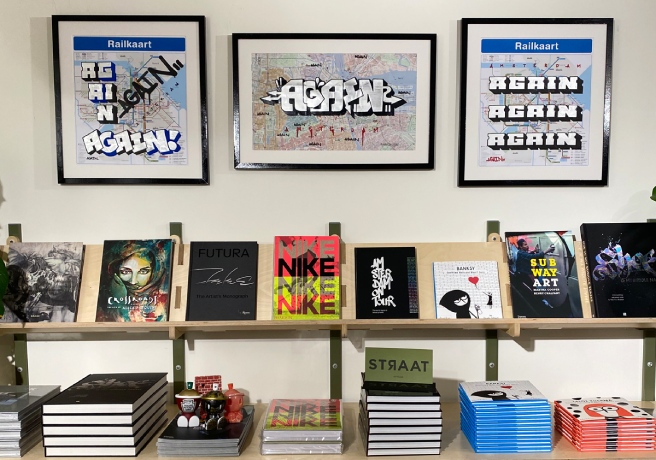 AGAIN's city map paintings in our STRAAT museum shop
To commemorate Amsterdam on Tour's second birthday, we have new Amsterdam on Tour tag posters for sale - but wait, there's more! AGAIN has personally hand-signed a limited amount of posters as well. While he was here, we immediately seized the opportunity to ask him a few questions.
STRAAT: Let us start this conversation by saying congratulations on the two year anniversary of Amsterdam on Tour! In the article above, we have given a few details on the long process of creating this legacy book. How does it feel to now celebrate its second birthday?
AGAIN: It has been amazing to receive so much positive feedback over the past two years. I really had no idea how people would react. And to be honest, that wasn't my main concern. I just wanted to tell my story on the Amsterdam graffiti movement up until 1985. But I'm thrilled to see people notice the dedication and energy I put into this project.
S: The book is definitely one of the most wanted items in our STRAAT museum shop. Can you explain the popularity of Amsterdam on Tour?
A: I'd say it's a one of a kind book. People appreciate the variation of unknown images from multiple sources. But it's not just a book full of pictures; the texts are informative and entertaining, thanks to the interviewees. And lots of people love this period, it was the time that Amsterdam had a cool and rugged image.
S: A lot of legendary Amsterdam writers have made a comeback in recent years. Do you think Amsterdam on Tour has something to do with that?
A: For sure! Quite a few cats admitted to me that Amsterdam on Tour gave them that spark again. I'm honored to have inspired some kings to pick it up where they left off.
S: Will AGAIN fans be able to buy more city map AGAIN paintings through STRAAT soon? The first sold out in a few hours...
A: Yeah, I think we can fix something… 
---
Article by: Alex Pope
Pictures: STRAAT / Amsterdam on Tour