STRAAT Books: DOES First 20 years
STRAAT Books will discuss an iconic graffiti and street art book on a regular basis. These aren't just our personal favorites; these are the essentials for anyone who's (partly) interested in graffiti and street art. Which is why STRAAT Books aims not to only share our take on these books, but to hear from you as well. So give us a shout and let us know your thoughts.
After starting STRAAT Books with the instant classic Amsterdam on Tour and the classic of classics Subway Art, we're continuing this series with a recent publication by one of the artists in our exhibition: 'DOES First 20 years'. You'll have to forgive us for our slight bias, but there's no denying that this is an absolute peach of a book. Why, you ask… We'll gladly explain below.
'DOES First 20 years' was released to celebrate a 20 year dedication to the evolution of style. It's DOES's personal story, based on his original blackbook sketches from 1997 to 2017, supported by handwritten notes from both DOES himself and his dad. Through these notes, it becomes clear that dedication is indeed the keyword in this story, and it's something DOES undeniably has.
Early sketch by DOES
The story of DOES (1982) starts rather differently from most graffiti and street artists. When he was 9 years old, he was scouted by professional football club Fortuna Sittard. At the height of his career, he represented the Dutch national youth team and played in the highest division in the Netherlands. His career at Fortuna ended after a series of heavy injuries, as well as a draining legal case against his former team, which ended in favor of DOES. After a few games for FC Eindhoven, his professional football career came to a halt in 2010. 
DOES's football career is a returning theme in 'First 20 years', and understandably so. In the words of his dad: "DOES's continuous search to innovate and perfect his work displays his disciplined nature. Dedication, focus and self-restraint are ingrained in him after having lived the life of a professional soccer player until the age of 28. As an elite athlete you are often confronted with criticism, sometimes very negative, by your coach, a teammate or by the media. It has taught DOES to deal with this aspect of development and to turn it into new positive energy. And although he still sometimes looks back at the many injuries as a soccer player with sorrow, he can now also see the positive side. It gave him the time to find his specific style and identity through sketching."
DOES himself also links his old career to his dedication to his current work: "I have an enormous drive to develop. Hyperfocus. Dedication. Intrinsic Motivation. A day without painting or drawing makes me feel uneasy. I can work for hours on end. No breaks, never. On holidays, I always have my gear with me. No half work accepted. If you do something, do it to the full, wholeheartedly! This also implies a healthy life. I need to stay fit in order to develop a continuous process." He describes this as 'football's first lesson'.
In this day and age of instant gratification, people seem to be obsessed with emulating both artists and football players. As a society, we're mostly shown the final product; we see less of what goes on behind the scenes to get to that highest level. Most people want to emulate the finished product, but are they ready to put in the work that it takes to get there? 'DOES First 20 years' is a great book because it allows us to understand what kind of work goes into reaching the level of artistry DOES represents. Yes, it's his personal story, but his story also stands for something bigger: the story of the artist who is truly dedicated to his craft.
DOES finds his style
'First 20 years' is also nicely put together, as DOES's trajectory and development of style is also shown in the book's design. The first half of the book is like a 'best of' blackbook, supported by the notes we discussed earlier. In the second half of the book, things become a bit more unorganized, but it makes total sense based on the information that's given (no spoilers here). 
If you're a big DOES fan, you should not miss out on this book. Near the end of the book, you can see the first steps towards his current style of work, which consists of stunning collages and sees DOES experimenting with different materials, as shown in our current exhibition. But this book is a must-have for any art lover. It offers a nice glimpse behind the scenes and demonstrates the kind of dedication a true artist must possess. 
'DOES First 20 years' was originally published in 2017, in a run of 800 copies. While this original run has sold out completely, you can find some third edition signed copies in our STRAAT webshop, as well as some amazing DOES prints. Don't sleep on these stunners!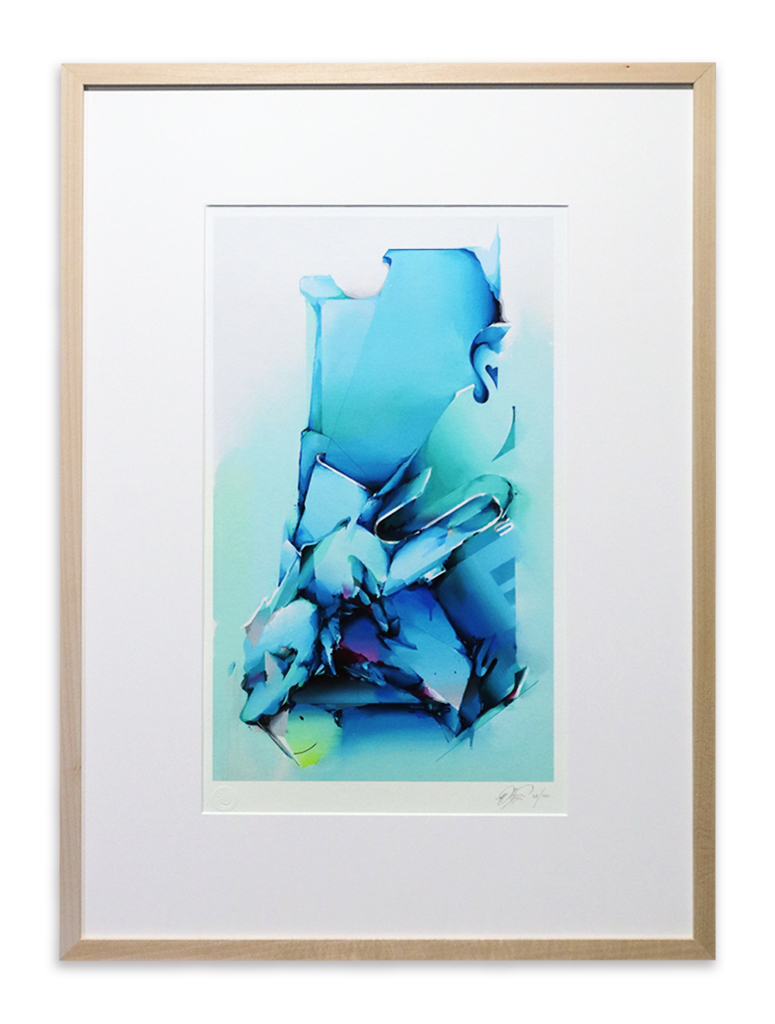 HOPE print by DOES