History of graffiti and street art: the 2000s and the 2010s
At STRAAT, we showcase some of the most amazing contemporary graffiti and street art. But there is a long history that predates these artworks. What were some of the key events that would eventually lead to graffiti and street art finding their way to museums such as STRAAT? That's where this extended historic overview comes in. This overview aims to introduce crucial moments in the development of both graffiti and street art, which paved the way for the artworks we currently have on display. If you want to start at the very beginning of this overview, please check out History of graffiti and street art: the 1960s and the 1970s, and then make your way through History of graffiti and street art: the 1980s and the 1990s.
The new millenium confirms the absolute breakthrough of graffiti and street art as legitimate art forms. Banksy emerges as the most-known street artist of our time. With big time success comes serious responsibility; graffiti and street art continue to work hard to stay true to their respective roots. But with the cultures breaking into the mainstream, diversity grows. Different and more widespread perspectives and approaches come into play. Still, graffiti and street art focused exhibitions break records all over the world. As the movements develop on a daily basis, here at STRAAT, we will continue to showcase graffiti and street art from all kinds of artists from all over the world, giving these artforms the platforms they deserve.
History of graffiti and street art: the 2000s
2000s / The Israeli West Bank barrier becomes a popular hall of fame for many street artists, including Banksy. 
2000s / Sharp rise of the use of the internet: websites, blogs, chats and forums dedicated to graffiti and street art allow artists to show their works to an international audience and to connect with their peers worldwide.
2000 / UK / After his debut within Bristol's graffiti crew DBZ (DryBreadZ), Banksy starts making his first stencils around Bristol and London.
2001 / Stavanger / First edition of Nuart Festival, one of the world's biggest celebrations of street art.
2001 / USA / Shepard Fairey, who would later design the iconic Obama Hope poster, founds OBEY clothing, one of the most popular streetwear brands.
2001 / Publication of Banksy's first book titled Banging your head against a brick wall. 
2001 / New York / In the aftermath of the 9/11 attacks, metro stations all over the world increase security measurements, which makes painting graffiti on subway trains even more challenging.
2002 / London / Banksy starts his popular stencil series titled 'Girl with Balloon'.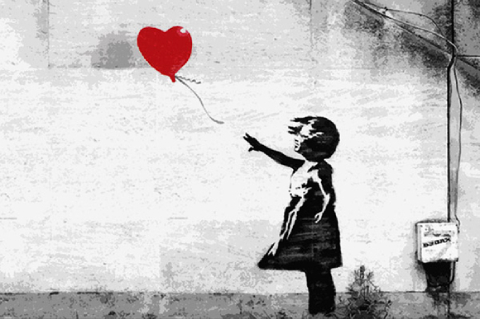 Banksy / Shepard Fairey
2003 / Berlin / Birth of the 1UP Crew (One United Power), a German graffiti crew who would gather a dedicated following thanks to their action-packed video-edits of breathtaking, mostly-illegal graffiti adventures.
2003 / London / Banksy mounts his massive exhibition 'Turf War' inside a former warehouse in Hackney.
2007 / Release of Jon Reiss's graffiti documentary Bomb it, which explores the interplay between worldwide graffiti movements from an international viewpoint.
2007 / Publication of Charlie Ahearn's book Wild Style: the Sampler, celebrating the movie's silver anniversary, providing an inside look at the making of the film.
2008 / Bristol / First edition of the Upfest graffiti and street art festival.
2008 / London / Tate Modern hosts the exhibition 'Street Art', including work by Blu, JR and Os Gemeos.
2008 / Shepard Fairey creates the 'Hope' poster for Barack Obama's election campaign.
2009 / Miami / Real estate developer Tony Goldman creates the mural project Wynwood Walls to revitalize the former industrial area. With murals by famous international street artists, the area quickly becomes a popular tourist destination.
History of graffiti and street art: the 2010s
2010 / Release of Banksy's documentary movie Exit through the gift shop, which documents the story of Thierry Guetta - also known as Mr. Brainwash - and his rise to fame as a street artist. 
2010 / The birth of Instagram enables artists to start managing their personal brand independently, communicating and showing their art directly to their audience without the intervention of middlemen (curators, journalists, gallerists and other 'experts'). The design of a mural increasingly takes into consideration how the piece will look on Instagram rather than the specifics of the site. 
2011 / Egypt / Stencil art emerges in the streets of Cairo as a powerful means to deploy key symbolic images during the Arab Spring uprisings.
2011 / Los Angeles / The Museum of Contemporary Art breaks attendance records with its 'Art in the Streets' exhibition.
2011 / Völklingen / First UrbanArt Biennale at the Völklingen Ironworks, a UNESCO World Cultural Heritage site since 1994.
2013 / New York / Joseph Ficalora starts The Bushwick Collective, a street art project that turns the formerly industrial neighborhood of Bushwick into an open air museum that attracts many tourists.
2014 / Berlin / Street artist BLU erases his own murals to speak out against gentrification in the district of Berlin-Kreuzberg, intended as a wake-up call to the city and its dwellers, championing the preservation of affordable and lively spaces. 
2015 / Amsterdam / The Amsterdam Museum hosts the exhibition 'Graffiti. New York meets the Dam', a retrospect of the years 1970-1991.
Art in the Streets / JR Louvre
2016 / Bologna / Street artist BLU once again erases two of his own murals, this time protesting the exhibition 'Street Art. Banksy & Co' at Palazzo Pepoli. 
2016 / Rio de Janeiro / Kobra, the artist responsible for the giant Anne Frank portrait on the outside of our museum, paints a 3000 square meter mural for the Olympics. 
2018 / Faces Places (2017) by street artist JR and film director Agnès Varda is nominated for Best Documentary Feature at the Oscars.
2018 / London / Banksy draws worldwide attention for remote-control shredding his own 'Girl with Balloon' at a Sotheby's auction, right after it was sold for £1.04 million.
2019 / Paris / JR transforms Louvre's iconic pyramid into a 2000-piece paper optical illusion.
2019 / Selina Miles directs the feature documentary Martha: a picture story about graffiti photographer Martha Cooper, co-author of Subway Art and an instrumental part of establishing the validity of graffiti and street art.  
2019 / London / Banksy's painting 'Devolved Parliament' sells for £9.9 million at a Sotheby's auction, making Banksy one of the world's most expensive artists.
2020 / Amsterdam / Opening STRAAT / The world's graffiti and street art museum.
---
By Giulia BLocal and Alex Pope